Flooded Basement Riverton
Flooded basement disasters are some of the most dangerous forms of water damage because floods fester in the area, going unnoticed for some time and growing mold spores. Our flooded basement Riverton crew has over 35 years of experience dealing with these types of situations, so 911 Restoration Salt Lake City knows how to remedy floods with the latest drying technology. We are licensed, insured, and bonded in:
Water Removal
Disaster Restoration
Sewage Backup Cleanup
Mold Remediation
We use all disaster restoration services in our line of work because one often leads to another. A pipe burst pumping water into your carpets or drywall will likely leave a fungus infestation behind. Our flooded basement Riverton team will use both water damage restoration services and mold decontamination to bring your property back to optimum shape. Since Riverton, UT is in between Utah Lake and the Great Salt Lake, it is prime real estate for storms as moisture evaporates off both bodies of water. Rain from those disasters can overwhelm the city's water line causing a toilet overflow or pipe bust in your home. If this happens to you, call 911 Restoration Riverton for an affordable price on drying and clean up of your flooded basement and we will even tell you how to prevent future disasters.
How do I Prevent a Flooded Basement?
Our flooded basement Riverton specialists can teach you how to prevent floods from all sources in your basement, from cleaning rain gutters to insulating your plumbing. One of the worst types of water damage is from ruptured houses, which is why it is vital to replace water heaters and other appliances before they break. A washer burst, rain leaks, and toilet overflow are also all possibilities in your basement. To avoid these, install a sewage back flow valve, align your downspouts properly away from the foundation of your building, and commit to plumbing repair as soon as you recognize a leak. In the event water damage does happen, act quickly.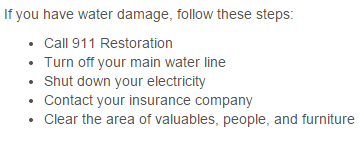 Many homeowner's insurance policies cover flooded basements and our flooded basement Riverton experts can help you get the most from your coverage by helping you file the insurance claim. If you stay on top of preventative maintenance you may not have to ever deal with this problem. According to the Insurance Information Institute, water damage is one of the most common reasons for insurance loss. You want to stay safe so that you never have to deal with such stress.
If floods destroy your home call our flooded basement Riverton company for a fresh start in the city of Riverton.