Water Damage Roy
Water damage occurs due to plumbing and rain leaks, and it presents serious health  risks, so always rely on our water damage Salt Lake City company to handle the disaster because our water damage Roy crew has over 35 years of experience using the latest drying technology to complete water extractions on houses throughout the community. When storms for their way through your roof and start a mold colony in your attic or a toilet overflow spills black water into your carpets, we will respond within 45 minutes to provide professional drying and clean up. We are licensed, insured, and bonded in all disaster restoration services.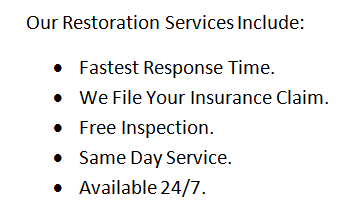 Our water damage Roy experts are fast and professional so that you receive the best water removal available. 911 Restoration Salt Lake City is available 24/7 because we value professional ms and know that floods can occur at any moment. Call our water damage Roy team before the washer burst spawns mold and we will prove we are the best water damage restoration company by working with all insurance companies to make sure your water damage is covered.
Does Water Damage Cause Mold Growth?
Water damage is the leading cause of mold growth because the fungus only needs excess moisture to bloom sand fill your HVAC system with mold spores, so contact our water damage Roy professionals for speedy mold removal and water mitigation. Leaks that last 24 hours are enough to build a mold colony. Within 48 hours that colony has become an infestation throughout the home. You may notice black spots on your carpets, congestion, or other respiratory problems. If you suspect mold, contact 911 Restoration Roy for same day service.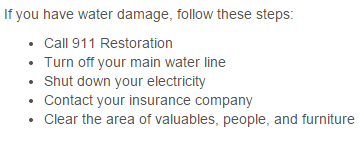 The first step is always to call our water damage Roy technicians so that your house can become a safe home quickly. We will tell you how to turn off your water line to stop the source of moisture for mold spores and reduce the floods entering your home. We are IICRC certified to provide you with professional service and all the information you need for an optimum disaster restoration experience. We remove water, mold, and stress from the situation. Call our water damage Roy staff to handle all aspects of the restoration service, from odor control to filing your water damage claim so that it is covered by homeowner's insurance.
Does Homeowner's Insurance Cover Water Damage?
Homeowner's insurance covers water damage Roy services if you insulate your water line, repair plumbing leaks, and clean your gutters to prevent such emergencies. Most insurance policies include a negligence clause that protects them if you do not take care of your home. In addition to the above stated chores, you should test sump pumps, water heaters, and other water based appliances to make sure they are in good working condition. If you work hard to avoid floods, yet they still occur within your home, you should have no problem receiving full coverage. If your insurance company refuses the claim, you will be happy to know that our water damage Roy specialists offer an affordable price on all disaster restoration services, from mold remediation to sewage backup cleanup. These steps are important because, according to the Insurance Information Institute, water damage is one of the most common reasons for insurance loss. 911 Restoration Salt Lake City has over 35 years of experience working with all insurance companies. We know how to get you the most from your coverage. Call our water damage Roy operatives today and see why we are the best water damage company.
What is the Best Water Damage Company in Roy?
The best water damage Roy company is 911 Restoration because we always put the customer first with the latest drying technology, best remediation techniques, and a focus on comfort. We strive to remove the stress from such a tragedy and help you relax knowing that your home is in the trusted hands of our water damage Roy personnel. We are aware of the proximity to the Great Salt Lake, and that Roy is under the constant threat of floods. Our water damage Roy crew will respond within 45 minutes of your emergency and start pumping water out as soon as we arrive. Call us today for a fresh start after rain storms or plumbing issues damage your home.