Crawlspace Cleanup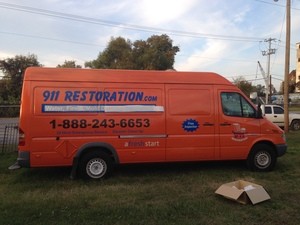 Crawlspaces may need cleaning as a result of a lot of incidents, but when it comes to the foundation of your home be rest assured that Yoav Gueron has your back. He thinks, "whether it be storm water, or flooding from a pipe burst, making sure the crawlspace is free of water damage will increase the longevity of the home."
Long lasting peace is what we are all about, so you can depend on the licensed, bonded, and insured team to deliver you the fresh start you need. Call us at 801-203-0700 and allow us to offer a free visual inspection. If you experience a flood, or sewage backup, that leaves you in of restoration service, contact us.
Available 24/7/365
45-minute response time
Same-day service
Call us, the crawlspace cleaning Salt Lake City team, at 911 Restoration.
Certified Crawlspace Cleaning Solutions
911 Restoration Salt Lake City is the one stop shop for all your restoration needs. For example, one evening a client had a pipe burst due to the cold front. In her call, we were able to successfully guide her to her water shut-off valve.
Shortly after we arrived she let us know it would not be much of a problem because she did some D.I.Y. cleanup, which worried our project manager. He informed her of our free water damage estimate, and in our inspection we found out that the water slipped in between the wooden panels of her living room and out the door. What she thought was the water drying out, was actually it escaping elsewhere.
The IICRC certified crawlspace cleanup crew immediately began surveying the floor with their infrared cameras, only to reveal a soaked subfloor and a flooded crawlspace. Luckily, we caught it early, so there was no time for the mold to set in.
Remediating the water damage involved leaving a blower and dehumidifier on for a couple days. It was simple enough. Then we began pumping out her crawlspace. We went in there with our hazmat suits and provided decontamination services. Spraying the space with antibacterial solution curbed the amount of mold spores present. This was imperative because in little as 24 hours an infestation could take hold. Due to our fast reaction, the threat was put down quickly.
All these things are typical of any service dispensed out to a client. We really aim to provide you with peace of mind and comfort.
Give 911 Restoration a call at 801-203-0700 when you are in need of expert restoration service.
Inspection for Crawlspace Protection
We believe that homeowners deserve to never be in a situation where they need restoration. It is just disheartening to encounter that, so we wanted to provide you with a list of things to check up on every month to ensure smooth sailing, and a clean crawlspace.
Make sure all roof shingles are intact
Keep gutters clear
Downspouts should face away from the home
Landscaping should direct water away
All the components of your home work together in order to lead water safely from roofs and crawlspaces. If any part of this process is compromised, then water can start invading your home. For example, if your shingles fail, then it will lead to pooling water that can get into the crawlspace of your attic.
Moreover, if your gutters and downspout malfunction it will lead to water clawing down the home, and settling on the outer edge, which will allow it to get into the crawlspace. Downspouts and landscapes should swish water away, and if it does not then it can lead to a weaker home integrity—or mold. This is bad news if you ever want to sell your home or live comfortably.
You deserve peace at home, so inspect it frequently to keep water out. If you do uncover water damage or mold in your crawlspace—or anywhere else, call 911 Restoration Salt Lake City at 801-203-0700.