Sanitization Services in Salt Lake City
As coronavirus spreads rapidly throughout the U.S., property owners feel increasingly at a loss to protect their homes and businesses. It is true that the threat of coronavirus is unlike anything we've seen before. We must take this pandemic seriously and work diligently to keep ourselves and our environment clean.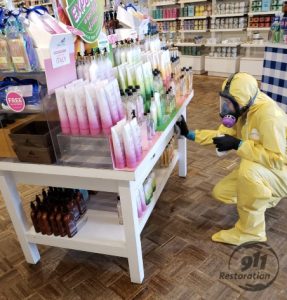 When the first cases of coronavirus appeared in the United States, misinformation spread quickly. Many people believed coronavirus was comparable to the flu. It is not. Current data suggests coronavirus is deadlier and far more contagious than the flu. As we see the number of infected individuals steadily rise, the message is clear. We must treat this pandemic like the threat it is.
Even if you are healthy and likely to survive a coronavirus infection, others in our community are not as fortunate. And because the virus remains viable on many surfaces for hours and even days, each of us must take great measures to keep living and work spaces clean. If you own a commercial property, please remember that you cannot depend on members of the public who carry the virus to stay out of your facility. Some individuals do not show symptoms of coronavirus until two weeks after they have been infected. Even the most careful neighbors may still bring infection into your office or retail store without realizing it. To ensure better peace of mind for your customers and staff, disinfect your property thoroughly. Call us at 801-203-0700 and see how we can help.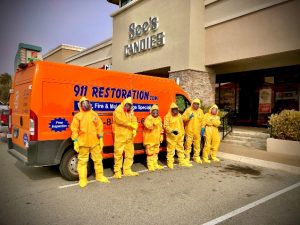 Also bear in mind that every member of your household faces the risk of exposure every time they go out into the community. The Centers for Disease Control recommends maintaining a regular routine of disinfection within your home. If anyone in your household is elderly, immunocompromised, or otherwise at risk of severe infection, consider providing a designated area for that individual, protected from outside contamination.
If you could use assistance sanitizing your home or business, 911 Restoration is always here for you. We serve the Greater Salt Lake City area with professional sanitization and disinfection. At a time like this, we know how important it is to provide peace of mind for customers, family, and the entire community. Our sanitization technicians are thorough, attentive, and communicate openly. They are your neighbors, and they are personally invested in providing hope and reassurance for a worried community. All our disinfection teams are trained to follow CDC and EPA protocols.
These are challenging times. But we will get through it together. Call 911 Restoration of Salt Lake City anytime.