Water Damage Restoration in Salt Lake City
911 Restoration of Salt Lake City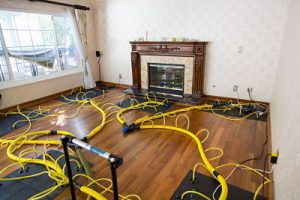 If you own property in Salt Lake City, you know that freezing temperatures can quickly lead to water damage emergencies. Flooding on the property can easily be caused by burst pipes and more. It's crucial to take care of excess water on the property, including flooded basements, as soon as possible. That's where the experts at 911 Restoration of Salt Lake City come in to assist.
The IICRC certified professionals conduct the water remediation with care, so your needs are always put first. The experts abide by a Fresh Start attitude for both you and your property. They go the extra mile and use an optimistic attitude, so you are never left worrying. Call us at 801-203-0700 and allow us to offer a free visual inspection.

The water extraction experts have years of experience in the industry and the proper equipment to move forward. A Free Visual Inspection For Property Owners Only is also offered, so they can uncover the source of the issue as soon as possible. When you're stuck in a bind with a flooded basement, call the professionals at 911 Restoration today. The property will be clean and dry in no time.
Timely Water Remediation
When you're dealing with an unforeseen water damage emergency, time is of the essence. That's why it's important to call the techs at 911 Restoration of Salt Lake City. They treat every water extraction with the same urgency as they are available 24/7/365, so there is no delay. In addition, all calls are answered within 45 minutes, so the water removal process can be started as soon as possible.
Cold temperatures in Salt Lake City can quickly lead to frozen or burst pipes. That's why it's so imperative to have regular inspections on the property by a plumber. They can ensure that everything is working properly and there is no backup, since sewage backup Draper can be one of the first things to flood the property.
The technicians take extra care to ensure all aspects of the property are clean and dry. Emergency roof repairs and boarding are provided in these restorations. In addition to the flood cleanup, the professionals will also take the time to pack up any belongings that are not damaged to ensure that they stay safe.
No water remediation task is too small for the specialists, and they are all treated with equal importance. Every issue is faced head on, so it will be taken care of with the best treatment possible. When dealing with burst pipes or floods on the property, you need a team that understands your needs. 911 Restoration of Salt Lake City can handle all of your water remediation needs today. Call us at 801-203-0700 and see how we can help.
Mold Removal After Water Damage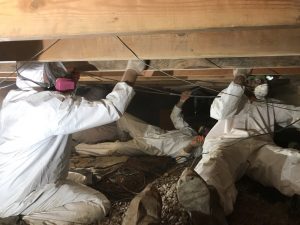 Keeping your property free of any moisture after a flood can be challenging in itself, but tackling any fungus growths can be an entirely different issue. Mold removal is a task that is definitely best left to the professionals, as they are trained and have years of experience. In addition, infrared cameras are used to inspect any hard-to-see areas, such as crawl spaces. From top to bottom, no area on the property will be left untreated.
Property owners can end up facing serious consequences if mold is left unattended. It's imperative to call the mold specialists in the Salt Lake City area as soon as possible to inspect the area. The techs are licensed, certified and bonded, so you know you are receiving the best care in the business. They are available around the clock, so you will never be left waiting.
The mold removal Herriman specialists fully understand your needs and work hard to provide you with peace of mind. Third-party mold testing is implemented to make the property as clean as possible. In addition, dehumidifying and drying services are offered so the property will be dry in a timely manner.
The professionals understand that having mold around isn't only detrimental to the structure of the property, it can be harmful to your health as well. The technicians truly care about your health and work diligently to ensure every spore is carefully removed.

When dealing with a water damage emergency on the property, it's important to call professionals that go above and beyond. 911 Restoration of Salt Lake City truly goes the extra mile to ensure the customer feels safe and content on their property. The flooding after burst pipes will not be the end of the property, it is simply an opportunity for a Fresh Start. Call the water remediation professionals today for a complete restoration and peace of mind that you are in the best hands possible.

Serving the communities of Alpine, American Fork, Bingham Canyon, Bluffdale, Bountiful, Centerville, Clearfield, Clinton, Cottonwood Heights, Draper, Eagle Mountain, East Millcreek, Farmington, Herriman, Highland, Holladay, Kaysville, Layton, Lehi, Lindon, Magna, Midvale, Millcreek, Murray, North Salt Lake, Ogden, Park City, Pleasant Grove, Provo, Riverton, Salt Lake City, Sandy, Saratoga Springs, South Jordan, Syracuse, Taylorsville, Tooele, West, Bountiful, West Jordan, West Valley City, Woods Cross and surrounding area.