Water Damage Holladay
Water damage in Holladay, Utah can arise for many reasons. Old plumbing, storms, and floods all create scenarios that can lend themselves to such disasters, so 911 Restoration Salt Lake City and our water damage Holladay crew have over 35 years of experience in all disaster restoration services. We know how to fix your home after all of the following:
Pipe burst
Rain leaks
Ruptured hoses
Toilet overflow
Water heater floods
We are licensed, insured, and bonded to save the houses in Holladay, UT from the worst disasters. We even offer a free inspection once drying and clean up is finished to check for left over mold. Our water damage Holladay team offers professional water extractions to make sure your property is expunged of excess moisture.
Holladay is the oldest continuously inhabited settlement in Utah. Since 1847, it has been a home away from home. It was one of the first settlements to spring up away from the Great Salt Lake. Its age means that it is quite possible that portions of the city's water line has not been updated for over a century. Plumbing was never meant to last so long. If a pipe burst starts pumping water into your crawl space, or plumbing leaks flood your carpets, call us for water damage restoration services at an affordable price.
Who do I Call for a Pipe Burst?
If you have a pipe burst call our water damage Holladay specialists for same day service water removal. We respond within 45 minutes to make sure your home sustains the least amount of damage possible. Our water damage Holladay experts suggest you shut down your water line as soon as a pipe burst occurs to mitigate the amount of damage sustained.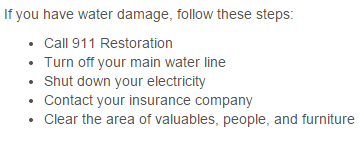 Speed is essential when it comes to disaster restoration. We are available 24/7 to provide you with professional prompt restoration services. We use the latest drying technology in order to expedite the restoration process. 911 Restoration Holladay works hard to ensure you get the help you need when you need it. We also provide you with options to prevent future disasters. For instance, a pipe burst can be avoided by installing a sewage back flow valve, insulating your plumbing for the winter, and repairing leaks as they arise. Call our water damage Holladay experts when you need water extractions and we will even file your insurance claim for you.
How do I File a Water Damage Claim?
Our water damage Holladay staff will file your insurance claim for you and we are working with all insurance companies to ensure you get the most from your homeowner's insurance policy. We know the industry jargon, tips, and tricks. If your insurance company believes negligence was involved or that leaks lasted more than 24 hours before action was taken to stop the disaster, you may not receive full coverage. However, if you stay on top of preventative maintenance, such as cleaning your rain gutters, replacing old appliances, and further bolster your property against floods, you should have no problem avoiding the negligence clause. You should also carry flood insurance so that you are covered no matter where the water comes from. According to the Insurance Information Institute, water damage is one of the most frequent reasons for insurance loss. Taking these preventative measures will help protect your building from such loss. If disaster strikes despite your best effort, call our water damage Holladay personnel for help from the best water damage restoration company.
What is the Best Water Damage Restoration Company?
The best water damage restoration company is 911 Restoration because our water damage Holladay operatives work fast, throughout, and within your budget. We know what it takes to rescue houses from washer burst emergencies, fire sprinkler malfunctions, and even mold infestations. When you need sewage backup cleanup for a toilet overflow, water damage restoration for rain leaks, or mold remediation after the fungus spreads, our water damage Holladay company can help. Call us for a fresh start when your home in the city of Holladay floods and we will respond within 45 minutes with the latest drying technology to start pumping water out.