Water Damage in Salt Lake City
Salt Lake City experiences most of its precipitation in the form of winter snowstorms, spring rain showers, and summertime monsoons. Tornadoes, thunderstorms, and hurricanes can also develop between July and September. These weather patterns are known to cause extensive water damage that can overwhelm properties relatively quickly. Fortunately, you can trust the technicians at 911 Restoration of Salt Lake City to initiate expert water damage restoration within 45 minutes of receiving your call. The repair techs are available 24/7/365 to assist you around the clock. We want to make it possible for everyone to receive emergency water removal and drying services the moment they need help. Call us at 801-203-0700 and allow us to offer you a free visual inspection.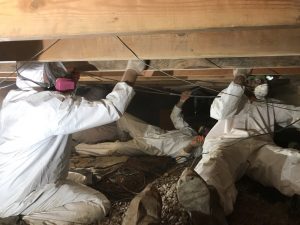 Customers can trust 911 Restoration of Salt Lake City to completely repair their home or business from even the most severe situations.
911 Restoration employs professionals who have earned their IICRC certification from the Institute of Inspection, Cleaning, and Restoration. The entire organization is also licensed, bonded, and insured for each customer's protection.
The repair techs are qualified to clean up water damage in both commercial and residential properties, no matter how complicated the situation may be. They initiate same-day, water restoration services and use advanced drying and dehumidifying techniques.
Do not wait to receive help when a winter storm or summer monsoon affects your home or business. Call 911 Restoration of Salt Lake City today to obtain peace of mind you need to get through any emergency.
Successful Water Damage Restoration Involves Sophisticated Drying Methods
Our technicians understand that it is essential to respond to customers with prompt water damage restoration in Salt Lake City after invasive moisture has entered their property.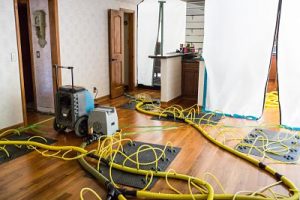 When a water disaster occurs in your home or business, you can rely on 911 Restoration of Salt Lake City to deliver immediate flood cleanup services. 
Along with implementing a strategic water removal system, we use powerful fans to dry out water damage and dehumidifiers to extract any lingering moisture.
The drying process is crucial in Salt Lake City, where humidity levels can get exceptionally high. If any moisture remains in the structure, mold can develop at an alarming rate.
When you experience a house flood or commercial water leak, that stagnant water can spark a mold infestation in as little as 24 hours. Mold spores need food and water to grow. Unfortunately, the sustenance they require can be found in most homes and buildings. However, with quick and thorough flood cleanup, most infestations can be mitigated entirely.
Repair techs will fix any water damage found on the premises, in addition to conducting leak detection techniques. These services ensure all instances of moisture are located, including leaks that may be hiding inside walls or under floorboards.
Technicians will also evaluate any structural damages that may have formed. They will make the necessary repairs to get rid of water damage on sheetrock and wooden components of the property. When dealing with pipe bursts, they manage the repairs and provide you with guidance on how to prevent frozen pipes in the future. 
911 Restoration of Salt Lake City is prepared to handle every aspect of the water damage restoration process. Call us today to receive help from a team that cares about and understands precisely what you need. Call us at 801-203-0700 and see how we can help.
Experienced, High-Quality Water Damage Restoration Service Delivered with Professionalism
911 Restoration of Salt Lake City strives to make all their customers feel entirely taken care of throughout the water damage restoration process.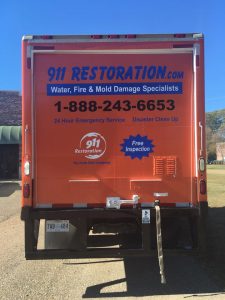 The staff is dedicated to customer service and committed to proving that the water damage company is a reliable resource to the Salt Lake City community.
We are ready to answer your questions and provide you with valuable information that will help you get through a water damage ordeal. 
Many customers have questions about the insurance process and need help filing their claim. 911 Restoration offers free insurance consultations where a professional will go over your policy with you to determine your coverage.
Along with submitting your insurance claim, on-site technicians will help you take inventory of the damage to your property. By sending an itemized list of your losses to your provider, you will get the most out of your policy.
Our team will do anything they can to make this a positive experience for their customers. 
So, whether you need help with flood cleanup services, insurance logistics, or something else involved with water restoration, call 911 Restoration of Salt Lake City. Our technicians will show you that they can turn a disaster into a Fresh Start! Call us at 801-203-0700