Disaster Restoration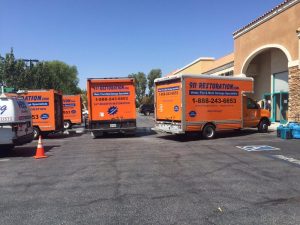 The fresh start is our guarantee that things are going to be good enough to look forward to. We are all about second chances and renewed tomorrows. Whether if it was a small fire, a flood, or a pipe burst, we are going to be there for you through all of it.
We guide our customers by supporting them, and our work speaks for itself.
If it is the middle of the night, you get service because we are available 24/7/365
45-minute response time means you never have to wait for relief.
Same-day service is how you know we care about you.
If you are in need of our disaster restoration team's services, give us a call.

Preventative Maintenance and Inspection for Disaster Avoidance

The most commonly seen disasters are brought up by extreme conditions. Always check out daily weather reports if you want to aid yourself in avoiding disasters. Storms can generate a lot of wind, hail, or rain that can spell out trouble for your roof or crawlspace. During these times it helps to inspect areas in your home for leaks or signs of damage.
Crumbling drywall, buckling panels, or warped walls are all signs of an impending accident or an ongoing one.  If any of these become apparent to you in your inspection, then these are things we can remediate. Continuous problems may seem bearable by themselves, but they can quickly compound.
To elaborate, and to connect the weather bit, take a look at what can happen in the winter. Snow pack, and freezing conditions, can put stress on your plumbing and roof. If you notice that the temperature is quickly plummeting, then take care of two issues with one move. That is, turn the temperature of your thermostat up.
Snow on a roof can melt due to the insulation. It will thaw out and then seep into the corner edges where it can refreeze. This creates an ice dam. Once this occurs it can lead to sagging and other problems. Avoiding this is as simple as keeping your home warm, so that the water on top does not become ice again. The entire disaster can be avoided by clearing your roof too.
Now back to the pipes. A house that has a high enough ambient temperature will not lead to a pipe freezing over. Sometimes heating a home can be too expensive, so it helps if you just provide warmth to any exposed water lines. A little heat lamp can go a long way for keeping water running smoothly.
Maintenance and prevention will always trump restoration when it comes to keeping your peace of mind intact. We know accidents happen, so when they do, trust us to be there for you.
Call 911 Restoration Salt Lake City for damage repair.
Certified Salt Lake City Disaster Remediation

The disaster restoration team in Salt Lake City is IICRC certified. This is how we show customers that we are capable of solving the most daunting problems. Remediation services is all about knowledge and skill. The art and science of providing you a fresh start has been studied extensively by our technicians.
Whether it is sewage removal from your ceramic floor, or flood cleanup for for your wood-floor kitchen, we can do it. See, disaster restoration is about taking the remains of the old and utilizing restoration technology to make things more beautiful than they once were.
The certificates we hold like structural drying, microbial treatment, stain removal, and water restoration means that every move we make is calculated. This maximizes the use of our time in order to provide you fast and effective service. When the job is done quickly and correctly, it means big savings for a homeowner. The best part is that things like fire remediation and mold decontamination also falls under our repertoire as a result.
You get expert help by a group that will do it all. Your peace of mind depends on it. We want you to be more than alright, as the fresh start is about making things better.
Call 911 Restoration of Salt Lake City for disaster repair you can count on.