Water Damage in South Jordan
Water damage from winter storms and summer monsoons is a significant contributor to property loss in South Jordan. Any situation involving excess moisture needs to be addressed quickly to avoid additional losses, such as mold, wood rot, and structural damage. The experts at 911 Restoration of Salt Lake City are available 24/7/365 to respond to your water damage emergency. Should you need immediate water extraction and drying services, technicians will arrive at your home or business within 45 minutes of receiving your call. Once repair techs appear, they will be prepared to conduct same-day, flood cleanup services. Customers can trust us to help you no matter when you may need water damage restoration in South Jordan.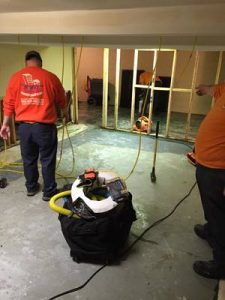 When even just a small amount of moisture gets into porous materials, like wood and sheetrock, it can begin to deteriorate these structures.
Our technicians are dedicated to providing prompt water damage restoration to customers to prevent these issues from forming.
When you call our water damage company for restoration assistance, you'll immediately be in touch with a crew member. They will guide you through the water cleanup process.
Property owners receive free visual inspections, during which a technician will assess the water damage and formulate an estimate of restoration needed to recover your losses.
Customers can trust that our technicians will take care of all aspects of the restoration work. Not only do they have years of experience in the industry, but they have earned their IICRC certification from the Institute of Inspection, Cleaning, and Restoration.
On top of employing qualified repair techs, the entire water damage restoration company is licensed, bonded, and insured for the protection of all its customers.
If you experience a minor pipe leak or need extensive flood cleanup in South Jordan, call 911 Restoration of Salt Lake City right away. Technicians will respond within 45 minutes to give you the peace of mind you deserve.
Mold Is a Common Byproduct of Water Damage
With years of experience and unmatched restoration skills, customers can feel completely at ease as soon as 911 Restoration of Salt Lake City arrives on the scene.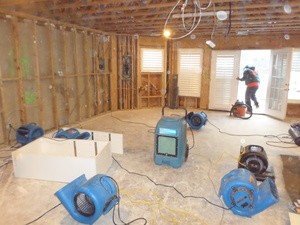 The experts agree that even the slightest leak can cause significant water damage and mold growth over time.
Over the years, they have seen leak and flood damage develop into a full-blown infestation. Once fungi has spread throughout the property it can present a real health risk for you and your family.
Inhaling mold spores regularly can cause serious allergy and congestion issues, and in extreme cases, debilitating respiratory problems and lung infections.
By utilizing 911 Restoration's expertise, you can significantly reduce your exposure to harmful bacteria and toxins caused by a mold colony. Repair techs use safe yet powerful cleaning agents that will eradicate even the most severe cases of mold.
They thoroughly remove any water damage contributing to the mold by implementing strategic leak repair and flood cleanup services. Technicians use advanced leak detection technology to discover moisture inside walls and underneath floorboards.
An extensive drying and dehumidifying effort ensures that they extract all lingering traces of moisture. The drier we get the premises, the better the chances are of preventing future infestations.
Call 911 Restoration of Salt Lake City for comprehensive water damage restoration and mold decontamination services. We will get make your property safe and clean for you and your family to enjoy.
A Water Damage Company That Acts with Skill and Professionalism
911 Restoration of Salt Lake City is your best option when you need restoration work done in your residential or commercial property. When it comes to water damage solutions, you should contact us immediately.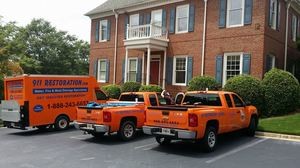 The entire staff values professionalism and aims to provide exceptional customer service to the entire South Jordan community. You can trust that technicians will take care of your property like it was their own.
911 Restoration offers its customers free insurance consultations to make the process of receiving financial aid much easier for you during this chaotic time.
By having an expert go over your insurance policy with you, determining your coverage will become easy. We will figure out what types of water damage restoration services are covered under your plan and go over the ways you can receive that coverage.
On-site technicians will take inventory of your property damage and help you create an itemized list of your losses. You should submit this list to your insurance provider along with your claim.
So, should you require immediate flood cleanup, or if you need information on insurance logistics, you can count on our staff to provide you with the assistance you need. So, 911 Restoration of Salt Lake City today and our team will make sure you receive the Fresh Start you deserve.