Water Damage in West Jordan
A basement flooding emergency or rainwater leak can strike without warning and leave your property in a state of disrepair that needs to be restored immediately to prevent water damage, structural problems, and mold from forming. To provide you with immediate water damage restoration in West Jordan, 911 Restoration of Salt Lake City is available 24/7/365. Our technicians understand how crucial it is to administer water removal quickly to stem the flow of your emergency water damage situation. They are guaranteed to arrive within 45 minutes of receiving your call. Through same-day water restoration services, technicians will keep the damage at bay and the water damage restoration prices to a minimum.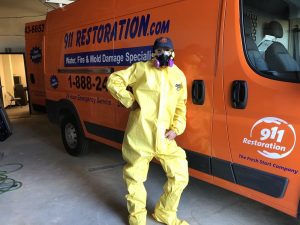 At 911 Restoration of Salt Lake City, we train our technicians in all aspects of water damage restoration in West Jordan. Customers can rest assured that repair techs will arrive equipped to handle any form of water that has inundated your home or business.
Repair techs get to work right away extracting water and using fans to dry out water damage.
Property owners receive free visual inspections that allow the technicians to survey the damages and formulate a free estimate.
When you hire our water damage company, you can feel confident in the abilities of the technicians we employ. Our organization is IICRC certified and licensed, bonded, and insured for your protection.
So, call 911 Restoration of Salt Lake City when you need water damage restoration in Sandy, and you will receive the help of a team that cares about and understands your needs.
Understanding The Different Categories of Water Damage
Three different types of water can invade your property: white water, gray water, and black water. Each type has increased toxicity.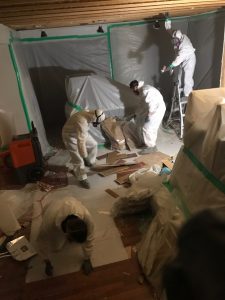 White water is the least contaminated of all the categories. It is water that comes from your faucets and, although not purified, there is a very small risk of getting sick if ingested.
Gray water mainly comes from sink, shower drains, or storm runoff drains. It can contain soap particles and other chemicals. It's recommended to avoid consuming this water.
The third and most dangerous category is black water. This type is commonly called sewage water, and it contains human waste, bacteria, and other harmful toxins. Make sure to stay away from sewage at all costs to avoid the health risks.
When a sewage backup occurs on your property, it is crucial to reach out for professional flood cleanup services. 911 Restoration of Salt Lake City has plenty of experience cleaning up black water, and technicians will take care to sanitize the affected area thoroughly.
However, if any category of water invades your property, you want to have professionals conduct the water damage restoration. There is no need to attempt flood repair work on your own.
We come to every job with the equipment needed to safely remove debris, dry out spaces, and sanitize rooms. Our team dons hazmat suits and they are trained to use caustic chemicals to neutralize any odors.
Stay safe when floodwaters invade your home or business. Call 911 Restoration of Salt Lake City to receive peace of mind from a water damage company that cares.
From Flood Cleanup to Water Restoration Insurance, We've Got You Covered
We have many years of experience working with all types of insurance companies. 911 Restoration works with all insurance companies and understands what they need.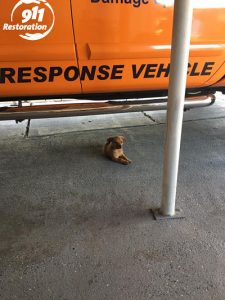 Insurance companies expect a lot of information about the situation when it comes to claims, but sometimes it can be challenging to gather all the details on your own.
To help you with the filing process, a staff member will provide you with a free insurance consultation. By having an expert go over your insurance policy, you can determine the extent of your coverage.
To receive the most financial aid possible, you need to submit a list of your losses to your insurance provider. On-site technicians will assist you in taking inventory.
Technicians will directly bill your insurance company and even file your insurance claim for you. This will allow you to focus on more important things during this chaotic time.
Customer service is the entire staff's top priority, and they are dedicated to guiding you through every step of water damage restoration in West Jordan.
From formulating an estimate of water restoration rates to strategizing a flood cleanup effort, you can count on 911 Restoration of Salt Lake City to take care of it all. Call the water damage company to help you get a Fresh Start after a water disaster today!