Mold Removal Magna
If you begin noticing signs that mold may be infesting your property, then you should call the mold removal Magna team at 911 Restoration of Salt Lake City right away.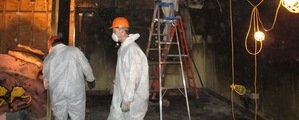 It is important to get our staff to your household immediately after discovering the substance in your living space, especially since prolonged exposure to certain types of mold and fungus can lead to health issues. 
We make it easy for you to schedule an appointment with us since we keep our phone lines available 24/7/365. Our mold removal Magna technicians are licensed, bonded and insured to provide you with comprehensive services, such as:
Water damage restoration

Moisture extraction

Thorough drying techniques

Sanitization

Spore removal

Drywall replacement

Vapor Barriers

Air filters and purifiers

Mold testing

Cleanup services

Vacuuming
We make sure to remediate all aspects of mold growth, including water damage cleanup, because our IICRC certified mold removal Magna agents know that unmitigated moisture issues can lead to an infestation.
Call us as soon as you discover any degree of fungal growth on your property, and we will provide you with a free visual inspection as soon as we arrive on the scene.
We Always Implement Proper And Thorough Mold Removal Services
We never want homeowners to feel like they are expected to clean up mold on their own, which is why you can contact our mold removal Magna team to handle any fungus job, no matter how big or small the situation may be.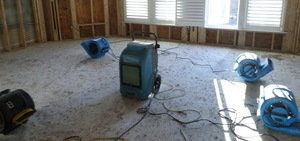 The main reason we are so concerned about working quickly, is because mold has the ability to cause health issues in everyone living in the household with it.
In order to be sure that the mold is not exceptionally harmful, like black mold, our mold removal Magna staff tests the substance growing in the home to determine if it is harmful or benign.
We also use advanced techniques to thoroughly eradicate all traces of fungus by using vapor barriers to stop the spreading of spores throughout the home, sump pumps, eco-friendly cleaning agents, wet vacs and air purifiers.
Call our mold removal Magna technicians when you need licensed, bonded and insured help and we will go the extra mile to sanitize your home today.
Customer Service Is Always Important To Our Mold Cleanup Pros
When we are called to control a fungus infestation, our mold removal Magna professionals want to immediately make sure you understand that now that we are on the job everything is going to be ok.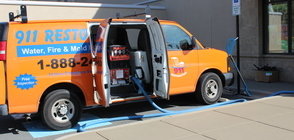 We know this can be a very overwhelming time, and once we arrive on the scene we will do whatever it takes to keep you calm and reassure you that everything is going to be okay.
By promptly beginning clean up services, our mold removal Magna team aims to show their customers that we are dedicated to making your household a safe one for you to live in.
Our quick, thorough techniques clean away all traces of mold, as well as prevent the substance from growing back and affecting your family all over again. Call our mold removal Magna staff at 911 Restoration of Salt Lake City today and get the fresh start you need.