Water Damage Restoration in Restoration of Roy

Frozen or burst pipes can be a very difficult time for any property owners in Roy. Whether they are caused by heavy winds or a plumbing failure, having a flooded basement is never what a property owner wants. Luckily, 911 Restoration of Roy is here to help. Our water extraction company is locally owned and operated with branches nationwide. All our water removal technicians are IICRC certified with years of experience, so you know you can count on the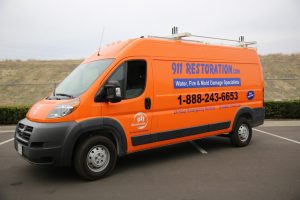 m for all of your water extraction needs. When it comes to speedy water removal services, you can count on our technicians. Our water remediation technicians are available 24/7/365 and respond to all calls within 45 minutes. Your property will be sparkling clean and dry in no time if you call 911 Restoration of Roy. Call us at 801-203-0700 and allow us to offer a free visual inspection.

Water Removal Services When You Need It Most
When it comes to water extraction companies, you don't want to take a chance by waiting. It's best to call upon the water removal services with years of experience. Luckily, our IICRC certified specialists are waiting on standby to help you out with all of your water removal needs. Emergency boarding and packing up services are even offered during your time of need, so all of your belongings will stay clean and dry.

A common question our technicians get is how property owners can prevent flooded basements in the future. The truth is that it's pretty easy. Simply have a plumber out to regularly inspect the property and make sure that everything is still in working order. They will make any small adjustments necessary, and you will be on your way. After that, go ahead and only flush items down the toilet that are meant to be flushed. That means throwing out any cotton swabs or paper towels. That way, the pipes will be nice and clear and less likely to get jammed in the future.
Many of our water removal clients in Roy are concerned that they can't afford quality water damage restoration services when they need it most. That's why our team of trained technicians accepts all forms of insurance. A free visual inspection for property owners is offered. In addition, the technicians will even work with you to find the best plan possible for your water removal services.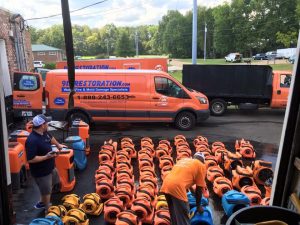 No one wants to deal with a burst or frozen pipe on the property in Roy, but it's best to know that the flood cleanup technicians have your back. All of our technicians are trained and certified with years of experience. They can even conduct extra emergency restoration services, such as emergency roof repairs or storm repairs. Simply allow the water extraction company in Roy to make the calls about what's best for your property. You will be on your way to a Fresh Start in no time. Call us at 801-203-0700 and see how we can help.


Removing All Mold On The Property In Roy
Mold is something that no property owner in Roy wants to think about, but unfortunately it is a reality after any water damage emergency. Our mold removal technicians are trained to spot the signs of mold on the property after a flood cleanup. Mold can start to grow as quickly as 24 hours after a water damage emergency, so it's important to be concerned.

Many of our property owners often ask our mold inspection technicians what the warning signs are for mold so they can be prepared. Mold can easily sprout if there is any dampness in the air, so it's important to have our techs conduct a complete dehumidifying service. In addition, if any of the books or furniture are damp to touch, you may have an issue on your hands soon enough. It's best to get the technicians in for mold removal services as soon as possible.

If it is too late and you already spotted mold in the shower or a popcorn ceiling in Roy, there's no need to be worried. Our trained mold removal technicians will be on the scene as soon as they can to get rid of the spores. They wear hazmat suits and use infrared technology, so you know you will be getting the most professional cleaning service possible. From top to bottom, your property will be treated to a structural dehumidification and drying. 
Many p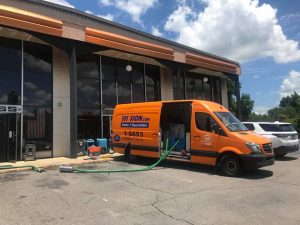 roperty owners are worried about the future of their property after a mold inspection. We understand that concern, and our technicians operate with an optimistic attitude. Both you and your property will be treated to a Fresh Start in no time. For timely mold removal services in Roy you can count on, contact 911 Restoration of Roy today at 801-203-0700.

Servicing the areas of Alpine, American Fork, Bingham Canyon, Bluffdale, Bountiful, Centerville, Clearfield, Clinton, Cottonwood Heights, Draper, Eagle Mountain, East Millcreek, Farmington, Herriman, Highland, Holladay, Kaysville, Kearns, Layton, Lehi, Lindon, Magna, Midvale, Millcreek, Murray, North Salt Lake, Ogden, Orem, Park City, Pleasant Grove, Provo, Riverdale, Riverton, Roy, Salt Lake City, Sandy, Saratoga Springs, South Jordan, South Salt Lake, South Snyderville Basin, South Weber, Shelbyville, Syracuse, Shirley, Taylorsville, Tooele, West Bountiful, West Jordan, West Valley City, Woods Cross and surrounding areas.