Mold in Grout – How Did It Even Get There?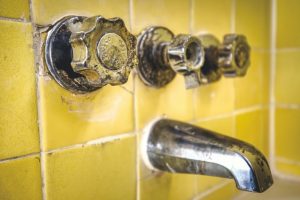 Everyone dreams of having a sparkling clean bathroom at all times, but with mold damage, this seems impossible. Areas such as bathrooms, kitchens, laundry rooms, and basements are ideal places for mold to grow because the humidity is high and airflow and ventilation are very minimal.
It is not very difficult to spot mold. If you enter the bathroom or any house area and smell something stinky, look for green or brown spots on walls or sides of floorings. Mold growth is widespread between tiles in the grout.
The porous nature of the grout makes it very susceptible to mold growth, making your place look old and dirty. Not only does it affect the aesthetic of the site, but it also comes with a lot of health risks, especially to those with existing respiratory diseases.
To keep your bathrooms and kitchens looking clean, here are a few ways to remove mold off of tile grout and also a few tips to prevent them in the future. These tips would not save your nerves but also your money.
However, if the mold damage is too widespread, don't try to clean it up yourself, as you may risk spreading it further onto other areas and in the air. Call remediation professionals like 911Restoration for immediate help.
How to Prevent Mold in Grout
The key to preventing mold growth is keeping the area dry and ventilated. Here are 5 steps you can take to keep wet areas of the house dry;
1.    Keep Doors and Windows Open
To keep your bathrooms and kitchens dry, it is important to keep doors and windows open for ventilation. After taking a shower, leave the bathroom door and window open for at least 15 minutes so all the humidity can leave instead of condensing on tiles and reaching tile grout.
Keep the kitchen windows open when cooking or doing the dishes so all the moisture and steam can leave instead of staying indoors. Ventilate all areas, including the laundry room and basement, as often as possible.
2.    Wipe Down Walls and Floor
If you see water droplets on wall tiles and floors, it is essential to clean them up as soon as possible. For example, the bathroom floor and walls would have moisture after bathing. Use a squeegee or a washcloth to wipe all the water off. Mainly focus on cleaning the tile grout where mold tends to appear first.
3.    Hang Your Bath Towels to Dry After Using Them
If you're someone who hangs their wet towel in the bathroom after bathing, please don't. Even a tiny mistake like this could cost you a lot of money. Leaving wet towels in the bathroom can contribute to humidity, causing mold growth. Instead, leave them out in a ventilated area to dry completely.
4.    Spray Mold-Prohibiting Solution
To prevent mold formation, spray your tiles with a mold-prohibiting solution at least once a week. You can even make this at home by mixing equal parts of white vinegar and water in a spray bottle. This solution will protect your bathrooms and kitchens against fungi.
5.    Fix Leaky Faucets and Showerheads
Leaky faucets and showerheads could be contributing to mold growth in your kitchen and bathrooms. To remove the source of excess moisture in your bathroom and kitchen, it is crucial to inspect for leaky faucets and get them fixed.
How to Remove Mold from Grout
Here are a few different methods you can use to clean mold from grout and prevent it from redeveloping:
1.    Bleach
Using bleach is one of the best ways of mold grout removal for white tiles. Using it on colored walls may cause discoloration. It not only kills the mold spores but also disinfects the area to prevent further growth. Mix one part bleach and four parts water in a spray bottle. Spray onto the affected area and wait for about 30 minutes. Use an old toothbrush for thoroughly cleaning the grout lines. Rinse it with cool water once you're satisfied with the result.
2.    Baking Soda
A much safer option is using baking soda but not as efficiently as bleach. It won't completely kill mold spores, so you will have to repeat the process many times. Stir 1/2 cup of baking soda and several teaspoons of water to make a paste you can spread directly over the mold. Let it sit for 10 minutes before you start scrubbing.
3.    Vinegar
Vinegar is known to inhibit bacteria and fungi growth due to its acidic nature. It works best if done during the early stages of mold formation. Mix equal parts distilled white vinegar and water in a spray bottle and generously spray the affected area. Wait for 30 minutes, then scrub the surfaces with a bristle brush and rinse with warm water
Do You Need Help Cleaning The Tiles And Grout In Your Home?
If the mold damage is excessive and you're not satisfied with the DIY methods of removing mold, in that case, your best option is to use professional mold removal services in Salt Lake City . The experienced 911Restoration will use advanced equipment, appropriate cleaning materials, and efficient cleaning techniques to remove the mold before it spreads further and causes costly damage to your home. Call us now at (801) 203-0700!