What are the Risks Sewage Backup Poses for Commercial Properties?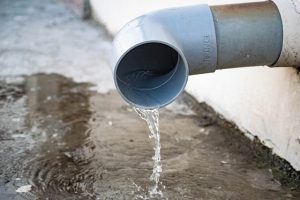 A sewage backup Is among the worst plumbing problems any property owner can experience. Even though burst pipes and big leaks aren't fun either, having sewage flow into your commercial property can incur more financial damages if you're running a business in the form of disruptions and tarnished reputation.
Therefore, if you suspect your plumbing might be at risk of any commercial water damage, you need to call restoration professionals before the situation escalates from a minor inconvenience to a hazardous situation.
In this post, we'll share some of the major risks sewage backup poses for commercial properties in Salt Lake City and what businesses can do to minimize the water damage.
What Is a Sewage Backup?
Sewage backup occurs when a property's drainage system experiences an overflow due to excess water from a flood or blockage. Not only does a backup smell really bad, but it can wreak havoc on your property, especially on lower floors such as a commercial basement. Sewage can be messy and challenging to clean and recover from completely unless you act quickly and hire a commercial restoration service in Salt Lake City, so they mitigate the health and safety hazards and maintain your structure's integrity in the process. However, you must understand the common problems that lead to sewage back up in Utah. These include:
Cracked pipes or faulty connections in the plumbing system.
Grease buildup in the septic tank due to irregular maintenance.
Pressure on the plumbing to soil or structure overload from the top.
Structural defects.
Poor sewage planning.
Inclement weather that results in flooding.
Root infiltration.
The Dangers and Risks Sewage Backups Pose to Commercial Property Owners
Health Risks
A sewage backup in commercial properties is considered the most dangerous type of water damage due to its risks to businesses, visitors, and occupants. Sewage is essentially contaminated water with a mixture of solid and liquid waste from commercial and industrial sources. Therefore, it is full of contaminants, viruses, bacteria, and other toxic substances, like drugs, fungi, and pesticides, that can cause diseases to spread through contact or even through the air. Some of the most common health problems contaminants in sewage can cause include:
Hepatitis
Coli
COVID-19
Salmonella
Leptospirosis
Nausea
Liver infection
Asthma, due to airborne toxins
Eye irritation, etc.
Structural Damage Risks
Apart from disease and airborne contamination, a sewage backup can cause different water damage on your property if you don't hire experts for prompt cleanup and mitigate the risks. Some of the potential damages include:
1.    Electrical Malfunctions
Electricity and water don't mix well, and a sewage backup can cause huge problems if any appliance, wires, outlets, or equipment is exposed to the contaminated water. Therefore, you need to cut off the power supply to the damaged site so you can prevent any or further equipment damage as well as electrocution, which can be fatal.
2.    Mold Buildup
Mold buildup is a serious issue often neglected by property owners until it's too late. This type of commercial water damage doesn't occur right away; it contributes to mold growth. Mold spores grow in damp spots under the floors or inside the walls. Mold can impact your structure's integrity as it feeds off the material it grows on, including wooden furniture, plastic, metal, and cardboard.
3.    Damaged Walls and Floors
Contaminated water can get into your walls, especially the insulation and drywall, causing corrosion and rotting. If the water damages your floors, it can cause swelling and lifting, which results in a soft and squishy feeling when stepped on. Therefore, you need to call professionals as quickly as possible before the damage is beyond repair and requires extensive restoration.
4.    Long-Term Smell and Stains
Sewer gas is a byproduct of the breakdown of human waste, which can cause your property to smell like rotten eggs when sewage water is allowed to seep into the walls and floors. This usually happens when property owners take the DIY route to clean up, not only risking their health but their structure's integrity in the process. Long-term exposure can also lead to stains on the walls and floors, depending on the level of contamination, color of waste, and residuals.
Renowned Commercial Restoration Services – 911 Restoration of Salt Lake City
A sewage backup can be an exceptionally dangerous situation for property owners and requires professional intervention for proper cleanup and decontamination due to its sensitive nature. At 911 Restoration of Salt Lake City, we have the expertise and equipment to handle any type and level of commercial water damage. Our team of experienced commercial restoration experts is well informed on the different types of risk that sewage backups present and can return your property to its original condition in no time.
Feel free to call us for more information regarding our water damage repair services.