Tile Floor FAQ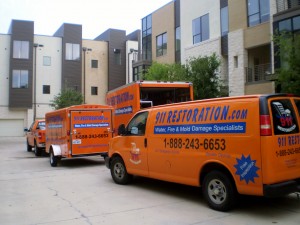 Can tile still be a victim of water damage?
For the most part, tile is considered the number one choice when it comes to preventing water damage. However, tile can still be subject to water damage like any other material because some tile retains water. The amount of water that a piece of tile can hold is determined by how dense the tile is. For example, porcelain tile is considered to be more water resistant than travertine tile because it is more dense. The more water that a tile holds, the more likely it is for that water to penetrate under the tile and cause water damage.
When it comes to tile density, there are four different kinds: non-vitreous, semi-vitreous, vitreous and impervious. Non-vitreous is considered the least dense, so it does not make great tile for a bathroom. Impervious tile is the most dense because it only absorbs 0.0001 percent of its own weight in water. With such a small amount of water being absorbed into the tile, the homeowner can rest assure that his sub-flooring is well protected against water damage.
What causes damage to grout and seals?
The grout and seals around your tiles are extremely important. They help keep water from getting into the spaces between your tile. If damage is done to your grout or seals, water is able to leak between the tile and cause water damage to the material underneath. With that in mind, it is pretty easy to see why protecting your grout is so important, but most people do not even know what causes damage to grout.
The most common damage to grout is time. Just like anything else, grout wears out over time. Always be on the lookout for cracks in your grout. This could be a sign that it is time to replace it. Another thing that causes damage to grout is harsh chemicals, such as those that people use for cleaning. Most basic products will not cause any problems, but it is when people start using harsh chemicals to clean the grout that they are actually doing damage. Yes, the grout comes out looking cleaner, but it has also weakened, making it easier for water to penetrate.
What is underneath my tile? What kind of threat does it pose?
The type of sub-flooring you have under your tile differs from home to home. Usually, however, plywood is what you will find underneath. This type of material absorbs water extremely well. Even small amounts of water that get past your tile can cause water damage. This poses a big threat because plywood becomes weak after being subjected to water damage. Also, the tile helps to hold in the moisture. In turn, this helps to support mold growth, which is not only damaging to your home but to your health as well.
If you notice any kind of breakdown in your grout or areas where water may be leaking past your tile, contact a professional right away. The quicker that you call a professional to service your home, the less likely you are to be a victim of water damage.