Mold removal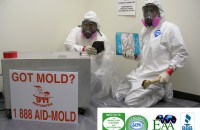 Ominous and hazardous, black mold is an unwanted guest in any home. It is a toxic fungus that can not only cause damage to the structure of the house but is also a health hazard. If left unidentified, it can cause respiratory problems, allergic reactions, nausea and disease or death in extreme cases. This is why it is important to understand how to properly identify, prevent and remove black mold.
 The first step to identifying black mold is to know where to look. It is most likely to appear in warm, moisture rich areas of the home. Basements and crawlspaces where is it normally humid, dark and damp are areas that are prone to black mold growth. Leaks inside walls and above ceilings are also common places for growth. In searching these areas, black mold can be identified by its deep black color and pungent musty odor.
 Being knowledgeable about how to identify black mold is one way to keep homes free from this toxic fungus. It is also important to know how to guard against its harmful effects. This can be accomplished by preventing its growth. Taking steps to minimize moisture by controlling leaks, preventing condensation and reducing humidity levels are all effective means of preventing black mold growth.
 Should black mold be identified, immediate steps should be taken to remove it. Mold removal is critical to prevent damage, such as rotting, and to protect the health of the inhabitants. The recommended removal method is to contact a professional mold removal and remediation service. An experienced professional will be able to conduct a mold inspection to correctly identify the potentially toxic mold and determine how far it has spread through the home. Individual mold remediation should only occur if the mold is non-toxic and the affected area is small. Otherwise, a mold removal service is the ideal option for eradication.
 There are significant risks to homeowners associated with black mold. Understanding how to identify, prevent and eliminate it will help keep homes free of this toxic species and reduce the risks associated with it.