Water removal in Salt Lake City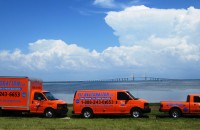 Your home is your sanctuary, and it's hard to imagine anything terrible happening to it. So when faced with the terrible effects of water damage, whether it be from floods, storms, toilet overflow, plumbing leaks, or a burst pipe, we know it's hard to think of what to do next. Fortunately, you don't have to deal with the devastating effects of water damage on your own.
Since 1978, we have been been in the business of getting people back to normal after water damage. We perform a variety of water damage restoration services, including basement flood cleanup, wood floor restoration, carpet dry-out, and restoring cabinets. We service flooded houses by pumping water out using the latest drying technology and water recovery techniques. Even if you have a flood damaged crawlspace, we can handle that too. We also perform sewage cleanup.
We have over 30 years of experience in water damage restoration services. We are licensed, insured, and bonded, and offer around the clock emergency service. We guarantee that we will respond to your emergency within 45 minutes. It's good to know that you have a helping a hand when it comes to devastating water damage. We serve our customers with care, concern, and professionalism.